Phillip Lee slams Tories as Narrow and Reckless in Defection Letter
September 3, 2019 8:59 PM
Dr Phillip Lee defected to the Liberal Democrats today, ahead of crucial votes to try to prevent a damaging No Deal Brexit. The MP for Bracknell in Berkshire cited the transformation of the party into a "narrow faction, where the measure of an individual's conservatism is measured by how recklessly they wish to leave the European Union." in his scathing resignation letter. He also described the party as "infected with the twin diseases of populism and English nationalism."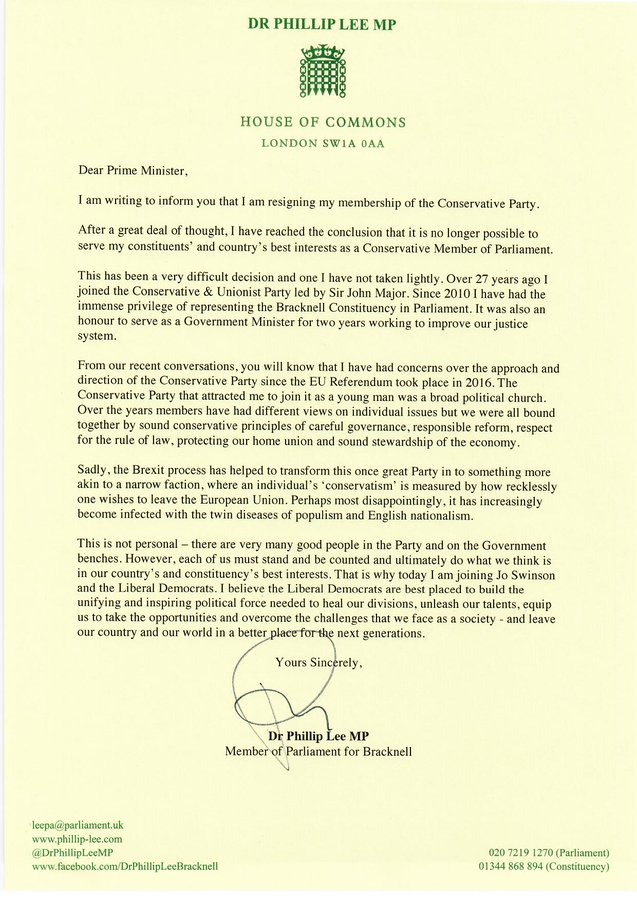 Dr Lee said his decision to defect to the Liberal Democrats was also motivated by the Conservatives demonstrated ambivalence to fighting climate change, acknowledging that the UK needs to be net zero emission by 2050, but simultaneously reducing fuel duty and pursuing other policies that fly in the face of this commitment.
Dr Lee becomes the Liberal Democrats 15th MP at Westminster.
Printed (hosted) by Prater Raines Ltd, 98 Sandgate High Street, Folkestone CT20 3BY
Published and promoted by Erewash Liberal Democrats, 139 Longmoor Lane, Breaston, Derby DE72 3DB
The views expressed are those of the publisher, not of the service provider.
Website designed and developed by Prater Raines Ltd